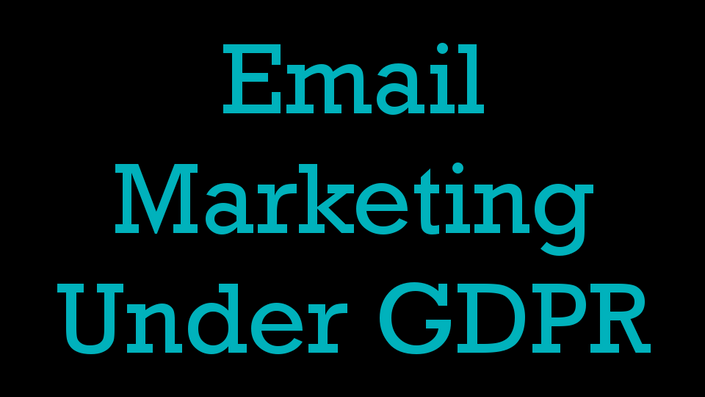 Email Marketing under GDPR
What you need to know and do to continue email marketing with peace of mind now GDPR is active
Watch Promo

"Fab course…it is giving structure where others give complexity."
- Alison Quill, Founder, Brightminds and OurGenerationWorld.co.uk
We're now post-May 25th - that's not a reason to panic if you've not yet started your GDPR journey.
Many businesses haven't - don't worry you're not alone.
What's the course going to do for you?

Give you the knowledge you need to get your email marketing GDPR proof and maximise the amount of email marketing you'll still be able to do
Give you the knowledge you need to get your cookies GDPR proof
Make sure you don't do anything you shouldn't post-May25th
(well, within what we know so far about the regs anyway!)
The aim is to help you quickly understand what you need to do and how to do it.

But GDPR is complicated.....

...and it's a law - which means that no-one knows *exactly* what compliance is until it gets tested in the law courts.
That means it's all a case of risk-balancing, so in this course you'll get an understanding of what the risks are, and (where appropriate) different options for how to implement.
This course isn't a set of do this / do that - you are going to have to do a little decision making along the way.
What are we going to be covering?

A set of easy to follow advice on what to do to make your email marketing ok under GDPR, including:

How to continue getting opt ins
How to continue being able to send broadcasts to your existing database (even if you're starting the journey after May 25th)
How to capture the right data
How to get your privacy policy right
Where to use consent, and where to use legitimate interest (and what on earth that actually means!)
Cookies - getting them right for GDPR too
What's in the course?

Video training sessions on all the key email marketing areas, and cookies.

Plus, checklists, downloads etc.
A Facebook group for you to ask questions in.
Your eCommerce Marketing Problem Solver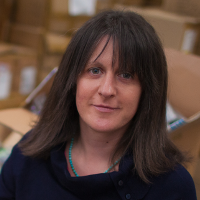 Chloë Thomas has been working in eCommerce since 2003, and running her own businesses since 2007. Throughout her focus has been on learning how to increase orders, up customer retention, and recruit new customers cost effectively.

Chloë advises retailers of all sizes, from multichannel operations with sales of many millions, to brand new startups looking for those first 100 customers. Her primary focus is on working with businesses who have sales under £1 million to help them take the leap from 0->100 customers, from 100->1,000 customers and on.
Power Retail (Australia) named Chloë as one of the top 10 eCommerce commentators in the world.
Within 6 months of launch Chloë's eCommerce MasterPlan Podcast was the top eCommerce podcast in the UK.
eCommerce coach, mentor and consultant at eCommerce MasterPlan since May 2012.
Chloë has published 5 books on eCommerce, including the best sellers Customer Persuasion and B2B eCommerce MasterPlan
And she is an in-demand as a contributor to events and publications such as Internet Retailing (Australia), eCommerce Expo, Internet Retailing Expo, Internet Retailing Conference, Direct Commerce Association.
The Course:
Part 1: GDPR is...
There's so much mis-information and confusion around that before we get started you really need to know what GDPR is REALLY about.
This section explains what it is, the risks, the rewards, the bigger picture and the principles behind GDPR.
Including - just what is processing?!
Part 2: Doing your Data Audit

Before you can get compliant, you need to understand what you're working with.
That's where the data audit comes in. We explain what it is, why you want to do one, and how to do it.
Here we'll also look at your tools - are they ok to keep using in a GDPR world?

Part 3: Your Lawful Basis for Processing Data

Once you know what data you have, you've got to work out if you're allowed to have it.
In the course you'll learn what your options are, and how to pick between them.
(this is the bit about consent, and customers, and legitimate interest)
Part 4: Writing Your Privacy Policy / Privacy Notices

Once you know what data you have, and your lawful basis for using it, it's time to tell everyone.
That means creating a clear privacy policy statement for your website.
Part 5: Data Capture

Just what do you need to do to be able to keep capturing email data?
You'll learn about your options, and how to pick the right one(s) for you.
This is the bit about how to do email sign ups!
Part 6: Your Existing Data

Can you keep emailing to it? Do you need to tell them anything?
You'll learn what you need to do, and how to do it to maximise the positive impact.
FYI - you're too late to send repermissioning emails, so the videos for that aren't there anymore.
Part 7: Embracing GDPR in the Future - it is a force for good (honest!)

You can't just "do GDPR" and forget about it. Compliance, and embracing it's principles are something that should become part of your day to day marketing activity.
You'll learn what you need to do, and how to do it.
Evolving Course

Just like GDPR, this course is evolving.
Content will be added based on the questions course members need the answers to, right up to May 25th & beyond!
Bonus Material
Whilst this course is focused on Email Marketing Under GDPR I'm going to give you some help in a couple of other areas too:
Bonus 1: Cookies! including Facebook ads and Google Analytics
Cookies also come under GDPR - and are closely linked to your email marketing, so I'm going to add a set of videos to help you get your cookies compliant too.
Bonus 2: GDPR Experts
Chloe is not a GDPR specialist. She is an email marketing expert, who knows a shed-load about how to manage your email marketing under GDPR.
GDPR covers a lot more than marketing, so we will be getting a couple of AWESOME GDPR experts in to do live Q&A sessions with you to answer questions on the other areas, and any super-complex email topics too. Confirmed so far:

Shireen Smith, Solicitor & Founder of Azrights - lawyers for the digital world - replay available now

Chantal Wellavize, Director HR on Tap Ltd helping businesses increase profits through people - replay available now
Support
Our experience of GDPR so far, is that everything is up for debate! And that there are lots of questions to be asked. (and that there are not yet answers to all questions...)
This course it being creating so that you can just get on with it, but we also want to give you the chance to get help when you need it.
Private Facebook Group

In the group you'll be able to ask questions as soon as you have them.
Let's be super clear - what's in and what's out?
Between Parts 1-7 and the Cookie bonus content...
We WILL be covering:
We will NOT be covering:

Privacy policies
Your software partners
Email capture
Existing lists
Consent
Legitimate interest
Recording consent
Opt out records
ICO / other registrations
B2B data and B2C data
Cookies
Marketing data audit
GDPR as per UK laws

Sensitive data / special category data
Marketplaces
DPOs
Data subject requests
Data Proection Impact Assessments
Data Breach notification processes
Insurance
Employee data and other HR areas
Full data inventory
Contractor data
Service provider data
Marketing to children
Cold lists
Direct Mail
Data security reviews
GDPR as implemented outside UK law
GDPR for businesses with over 250 staff
You can of course ask questions about anything we're not covering of our guest GDPR experts.
Frequently Asked Questions
When does the course start and finish?
It will start mid-April. There will be a number of live Q&A sessions in the weeks following it's launch. And you will have lifetime access to the recorded content.
How long do I have access to the course?
How does lifetime access sound? After enrolling, you have unlimited access to this course for as long as you like - across any and all devices you own.
What if I am unhappy with the course?
We would never want you to be unhappy! If you are unsatisfied with your purchase, contact us in the first 30 days and we will give you a full refund.
Can my team join too?
We understand that sometimes you'd like to bring one of your team along – that's great. But we limit it at one extra email address per enrollment. AND that second email address must be on the same company email domain. (and no - gmail doesn't count!!)
Is VAT included?
No. The prices on this page are excluding VAT. The relevant VAT for you will be calculated in the checkout.
NOTE - the contents of this course are the authors personal opinions, how you interpret those is your responsibility. It remains your responsiblity to deal with data protection in your own business.
NOTE - VAT will be added as applicable for your location when you checkout.