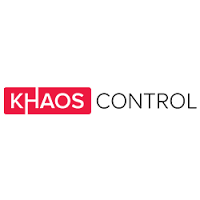 Khaos Control
Khaos Control Was Created By Mike Cockfield, Who Had A Vision Of Delivering Powerful, High-Quality, Feature-Rich Business Solutions That Enabled Businesses To Unlock Their Potential.

Khaos Control Solutions, the company behind Khaos Control, was founded in 2000. Initially Mike forged ahead on his own, developing, selling and supporting the software himself. However, it was not long before Mike was recruiting and his first hire is still with the company today; Ben Nolan (2nd Line Support Manager).

The vision of delivering powerful, high-quality, feature-rich business solutions has remained at the core of the company's values and has been our guide in the development of Khaos Control as a Multi-Channel Retail, Order and Inventory Management solution, for both Business to Business (B2B) and Business to Consumer (B2C).

Website: https://www.khaoscontrol.com